Woot, woot! It's here, my new book: Everybody Takes The Money.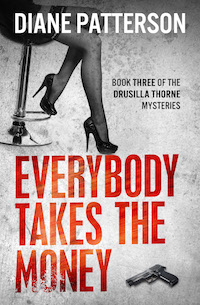 Drusilla Thorne and her sister Stevie return, and Drusilla is having just as much difficulty staying out of trouble as she did last time:
When Drusilla Thorne goes along with her friend to an interview of reality TV star Courtney Cleary, she's expecting an easy afternoon. Instead, Courtney's shady boyfriend Roger attacks Drusilla, landing her in the hospital. And he claims she assaulted him.

Then Courtney disappears. Since she's the one person who can corroborate the truth about the assault, Drusilla tracks her down. But as soon as Drusilla finds her, the TV star is murdered right in front of her. And even though she didn't see the killer, the killer clearly saw her.

Now Drusilla has to track the murderer down, clear her name, and stay alive in the meantime.

She can't wait to find out the rest of the week has in store for her.
For the first week the e-book has a promo price of 99 cents!
Amazon | iTunes | Kobo | Barnes and Noble