Yes, I have a new book out. It's the first in the Zombies Of The Bay Area series.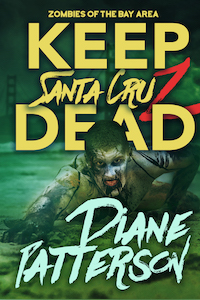 Billionaire Marcus Stephens is facing the end of the world, the destruction of humanity…zombies. He's never let problems stop him in the past. He's not about to start now.

I got the idea for this when my husband and daughter started watching The Walking Dead, and I looked at how they used the setting of greater Atlanta. A couple of times I thought, Yeah, that wouldn't happen around here.
So I wondered…what would happen around this area? The San Francisco Bay Area isn't exactly known for its prepper base. And one thing we do have a lot of around here is billionaires…how might they react?
Anyhow, if you check it out, let me know what you think, here or in an email or in a review on Amazon. (I'll be honest — the reviews on Amazon are pretty important to other people finding the book, so if you wouldn't mind,
There are two more novellas in this series coming soon: Crossing The Bridge and Finding Ben. I think they're pretty fun.
The Zombies Of The Bay Area series is in Kindle Unlimited for a time. (I've never tried the Kindle Unlimited system before. I want to see what's what.)