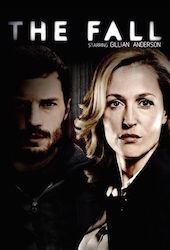 The Atlantic posted an interesting, glowing article about "The Fall" (a BBC series airing on Netflix):
I can certainly sympathize with fatigue over the seemingly endless tally of dead women on television. It's one reason I had to stop watching another popular BBC series, Luther, despite the excellent lead work of Idris Elba as the eponymous detective. You don't have to be Gloria Steinem to find show after show in which women are objects—helpless victims, potential victims, sexual conquests, aggrieved spouses—stifling and a bit dull.

But the debate over The Fall's first season obscured the show's revolutionary treatment of women and the topic of sexual power. In fact, I haven't seen another program that so directly challenges and rewrites the traditional conventions of crime dramas, starting with Anderson as DSI Stella Gibson, a highly-regarded London cop who gets called to Belfast because investigators there need her expertise on a murder case.
I recently binged through the entire show…after initially watching the first 5 minutes and saying, "No, no, not this again." The show opens with a woman coming home and discovering that someone has clearly been in her house and is still watching her. I figured we were then going to be treated to the standard "terrorize her, attack her, then bring the cops in to begin a case" zig of so many serial killer shows.
Instead, the show zags: the killer is playing a longer game.
There is violence and I found the picture of Northern Ireland to be really interesting: the sectarian divide is really downplayed here. It's mostly just standard middle-class people trying to live their lives.
And by the way…
SCREENWRITERS OF THE WORLD, FOR THE LOVE OF THE FSM, TAKE NOTE:
Gillian Anderson's character IS as fantastic as the article suggests: she's in control, she's extremely good at what she does, and she isn't a victim, either of the killer or of the men around her. I was afraid of the zig: we know she's damaged because she has one night stands! Instead, we get another zag: she's a professional on a long-term assignment away from home. That's what happens. She doesn't feel any more abused or sullied by this than your standard businessman would.
I wasn't thrilled with the ending for Series 2: a little too American cop show for my tastes.
The major misstep for the show in my view was (spoiler): the serial killer really, really loves his little girl. The show talks about the spectrum of sociopathy, but this guy is damaged and views people as prey. That isn't going to change just because one of them is his kid. I think the show was using it as a way to "humanize" the killer, and it really rang false to me.
If you're looking for a crime show that veers away from the standard American cop show tropes (one reason I haven't watched one in forever), definitely check out "The Fall."