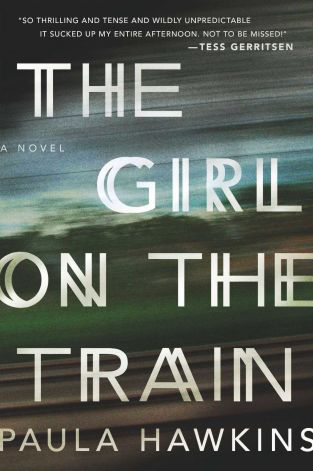 Gone Girl is one of those unrepeatable phenomenon that everyone wants to repeat. It was published in June 2012, and I'm pretty sure that it's been in the top 20 ever since. (Only one other book has had greater of the social impact: Fifty Shades of Gray. And wow, do I have zero interest in discussing that book.) Everyone I know has read Gone Girl, and everyone I know has a really serious opinion on it. As opposed to most books, where people read them, and then forget about them.
The Girl On The Train is definitely being positioned as one of the heirs to Gone Girl. There is a reason it has the word Girl in the title.
Which is kind of unfortunate, because it's a really good book on its own. It's a thriller about a sadsack named Rachel, who rides the train into London every morning, and watches the people who live in one house at one of the train's stops. She imagines this perfect, glamorous life for them, the kind she doesn't have. As the book goes on, you realize that Rachel's ex lives with his new wife in a house four houses down from the house of the "perfect couple" — a house he used to share with Rachel. One day Rachel sees something that troubles her about the status of the "perfect couple." She sees a news story that the wife of the perfect couple has disappeared. And slowly you realize Rachel isn't the most reliable narrator about what's really going on.
The best thing about The Girl On The Train is that to tell you any more about it at this point is to completely spoil everything. The story weaves in elements from various narrators to give you a bigger picture of what was going on, and everyone definitely has a different idea of what's going on.
Best of all, some of the things that bugged the hell out of me the most at the beginning turned out to be key elements that got explained later on.
I read the book in more or less one sitting (a cross-country flight) and it had absolutely no problem holding my interest. Definitely recommended.