If you've been reading my blog for a while, you know that I have been all about the running. Running marathons. Running up hills. Running a few times a week.
I was also (less vocally, but with no less dedication) all about the power lifting. Squats! Deadlifts! Bench press! Overhead press! So much fun. Whenever I didn't want to go to the gym, all I'd have to do would be to remember what the end of a workout felt like in my body and off I would go.
I was also always in pain. No, not from the running and not from the powerlifting (except, usually, a good kind of pain, meaning I'd worked out really hard). No, this was back pain. This was back pain I'd had since the end of college. Maybe before. I know I had it early on in my tech writing career — I remember one Area Associate seeing me stooped over at the printer and saying, "Diane! What's wrong?" and I said, "My back hurts too much to stand up straight."
I got an MRI sometime around when I went to grad school and for some reason I was under the impression it told me I had a herniated disc. Oh, one of those things. Everybody has that.
Fast forward past two kids, a whole bunch of running, and pain. Pain getting out of bed. Pain sitting down to dinner. Pain standing. Pain lying down. I'd always had it. It was just one of those things. I ran a few times every week, I walked a tremendous amount on my treadmill desk, and I lifted weights. And I was in pain. Everyone said working out was supposed to relieve pain — because of greater blood flow? who knows — but it seemed like my pain only went between "bad" and "I can't move."
Last year I was working out quite frequently with a trainer at my gym, three times a week, power lifting. He had to take December off (to do some training for his other job…cop). I was okay with having a break, because often the pain was so bad that just lying on a bench sucked. So instead of working out on my own (which I've done most of my life), I decided to take December off.
At Christmastime I talked with a friend at a party, and he said, "Oh, I had the worst back pain! But I went to see Randall Seago and he took care of me."
Well.
WELL.
At this point, I decided that humans were not supposed to live like this, and if there was something a surgeon could do for me, I was all over. Fusion? Awesome. Some kind of implant? Sign me up.
I saw Dr. Seago, and he said, "There is nothing I can do for you."
Surgeons are constitutionally unable to say those words. They're surgeons! Of course they have the answer.
"Should I exercise more?" I asked.
"So long as it's not running or lifting weights, sure," he said. After he picked me up off the floor and made sure I wasn't going to go run in traffic, he told me to get physical therapy.
I went. It was fun — strapping young men bending me into terrible positions. I felt great afterward.
For about three hours, and then my back would hurt again.
Seago sent me to a doctor who specialized in back pain, and that doctor gave me a cortisone shot in the back. Which definitely reduced the pain, but I wasn't really looking forward to a lifetime of getting three to four cortisone shots a year.
Another friend told me I should go see a neurosurgeon — he would have the answer. So I took a full day to go up to Berkeley and see this guy.
He took one look at my MRIs and said, basically, there is nothing I can do for you.
(Well, he actually started describing a series of four increasingly horrifying exams I could get on my back, most of which would end up with a giant needle being stuck into the disc.)
And then he told me, Avoid running and lifting weights. Because of the impact, you see.
At this point the only exercise I was getting was walking on my treadmill desk. Twenty thousand steps a day. Thirty thousand. Walk walk walk.
The problem with a treadmill desk is, though, that it's not aerobic exercise. It's very good exercise to keep your legs moving (and it does keep the pain in my back down to stand rather than sit, and to walk rather than stand). But I stopped getting aerobic exercise.
Then this happened.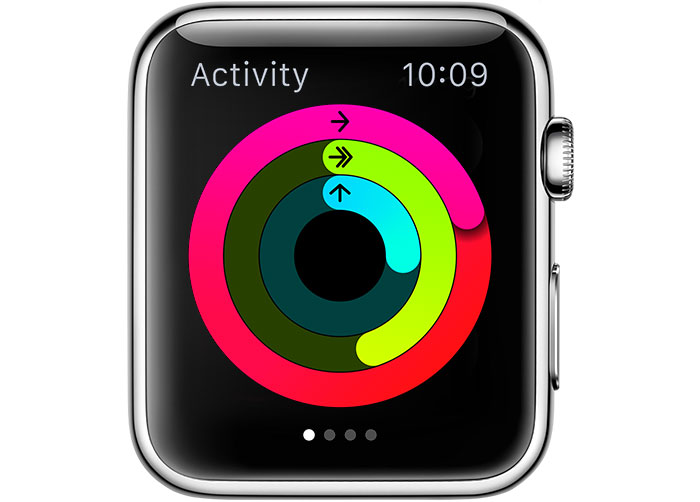 I got an Apple Watch. And while I had no problem most days meeting my Stand goal of 12 hours (hell, most days I probably stand for a full eight hours) and I usually hit my Calorie goal of 320 calories, I never ever met the Exercise minutes goal. Me, who walks 20,000 or 30,000 steps a day on my treadmill desk. Me, who used to run four or five miles, three times a week. Me, who wanted to run more marathons.
Well, this was not okay.
I walked downtown and back with my son and got eight minutes of Exercise out of that. That was not okay either.
So I have started going out every day and walking as fast as I possibly can — think power walking, except slightly less dorky looking — to get my heart rate up.
And since I am the most competitive person on the planet1, I am getting that extra walk (out in the sunshine! and the fresh air!) every day. Here's today's, in fact.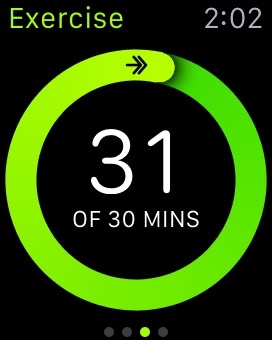 Man, I wish the Apple Watch would start having competitions among friends. I need the impetus and boy, do I like filling those circles. To me this is one of the greatest features of this watch.
———————
1In fact, this is an exaggeration. I am the second most competitive. In addition to my Apple Watch, I still wear my Fitbit (I like the sleep tracking at night, and the Fitbit in my pocket can still count steps that the Apple Watch on my wrist, which is normally on the wrist rest of my treadmill desk and therefore not moving, does not). I join up to weekly Fitbit step competitions.
I was in one Monday to Friday competition with someone who was SO competitive that one Friday night I quit for the night to go have dinner, watch TV, etc. This other person had synced a few minutes before I had, and I was three thousand steps ahead of her.
The next morning I discovered that I had come in second in the competition…three thousand steps behind the other person.
Meaning at 7pm on a Friday night, they went out and got another six thousand steps.