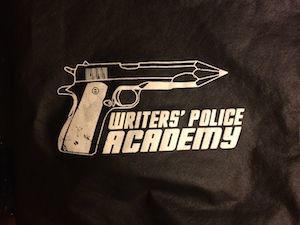 I'm back from the completely amazing 2014 edition of the Writers Police Academy, held in Greensboro, North Carolina. It's a conference started by former cop (and writer) Lee Lofland to put crime writers and law enforcement personnel to discuss real-life policing topics. I first heard about it a year or two ago and checked the page much too late this January to sign up, but then there was an unexpected cancellation three weeks ago and I pounced on it.
The Writers Police Academy three and a half days of non-stop (literally: on the days when we went to the police college for classes, we got on buses at 7:30am and finished for the day at 9, 10, or later). There's a ton of info and things to do.
The kind of demonstrations they do? Showing us what "blowing open a door using explosives" actually looks (and sounds and smells) like.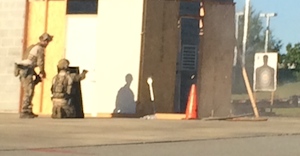 Among the workshops that I didn't get to do were: the Emergency Vehicle ride-along, the building search (complete with Bad Guys ready to shoot you), the shootout simulator (apparently everyone killed the hostage, their partner, or bystanders doing this), and underwater evidence recovery.
We heard from police chiefs (like Scott Silverii, from Thibodaux, Louisiana) and a former Secret Service agent and a former ATF agent from (of all places) Harlan county, Kentucky. Lisa Gardner did a talk, as did Alafair Burke, who gave us a very quick overview of the Fourth Amendment*. Sessions on firearms, why cops go bad, how autopsies are performed. There was a ton of discussion about Ferguson and where policing needs to go in this country. I don't think any topics were off the table.
The Special Guest was Michael Connelly, which was very cool. When I spoke to him while getting my book autographed, I told him I'd attended the interview series he'd been part of in Los Angeles, where he interviewed David Guterson. He got this blank look on his face (since I was clearly dragging up ancient history) and said, "Wow. The Writers Bloc series? Without a K?"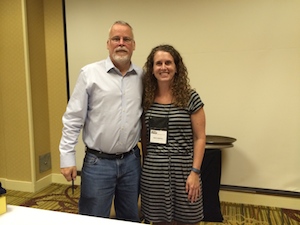 The absolute best part of the conference was of course meeting other authors, who are at all stages of their careers. Really successful authors, people just starting, people somewhere in between.
The rumor is that WPA is moving to a larger location next year, because it is clearly bursting at the seams. There are several repeat attendees, and every single person I talked to wants to go again.
I am definitely going again. This was one of the best writing-related experiences I've ever had.
===========================
*I asked Burke a question at the cocktail party later: "If the police get a warrant for my cell phone and I refuse to give them the password, am I covered by my Fifth Amendment rights?" She said, Nope, the suspect can be compelled to give up their cell phone password.
I have really got to find out more about this, because this sounds crazy as hell. Hello, Fifth Amendment. Anybody have any references?